Ayurvedic - Homeopathy - Specialist Doctor
Many studies conducted to analyse percentage and spread of Piles (Hemorrhoids). The summery is as follows – approximately 50% to 66% of people have problems with hemorrhoids at some point in their lives. Males and females are both affected with about equal frequency. Hemorrhoids affect people most often between 45 and 65 years of age, and they are more common among the wealthy.
Piles treatment by Ayurvedic and Homeopathy is available in Om Ayurvedic Clinic in Pune. Piles are also known as "Hemorrhoids " in English, "Mulvyadh" in Marathi, "Bavasir" in Hindi language. The Sushrut Samhita has explained the Hemorrhoids as Arsha more than 4000 years ago. Sushrut Maharshi explained types, causes & treatment in detail. In his book, Sushrut Sanhita, he described conservative treatment & kshar karma treatment . 
 Dr. Prasad Bapat is one of the best specialist doctor in Pune (India) for Piles (Hemorrhoids). He has simplified the  complex surgical method to "a few minutes procedure'. Piles (Mulvyadha) treatment is available in Om Ayurvedic Clinic, Pune . This is one of the best clinics in India who provides a herbal solutions known as Kshar sutra treatment. Our 21 years Kshar sutra research is a revolution in this field. We found that the combination of Ayurvedic and Homeopathic medicines have best results. Also, Kshar sutra can be a better option than surgery for piles.
We have two branches in Pune (India). Patient can visit clinic by appointment for consultation. We also have paid online consultation facility.
Hemorrhoids also called piles, are swollen and inflamed veins in your anus and lower rectum. Hemorrhoids may result from straining during bowel movements or from the increased pressure on these veins during pregnancy. Hemorrhoids may be located inside the anus (internal Hemorrhoids), or may develop under the skin around the anus (external hemorrhoids).
1) Chronic Constipation
2) Straining during passing stool
3) Genetic or Hereditary
4) Straining during childbirth
5) Repeated diarrhea – dysentery
6) Continues sitting or standing work position
7) Continues Lifting heavy weights
8) Habit to suppress the urge of defecation
1) Bleeding (Splash in the pan)
2) No pain in internal Hemorrhoids
3) Prolapsed mass through anus
4) Discharge of mucus (Sticky fluid)
5) Itching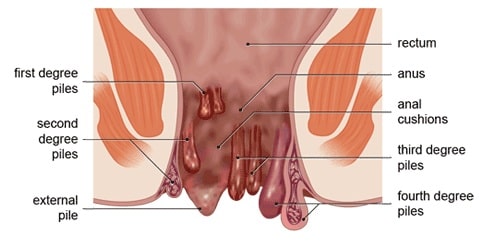 External – located external to anus. It is painful swelling in the anal tissues caused by a clot (or "thrombus") in one or more of the small veins in the anal skin. This may occur in conjunction with prolonged sitting or constipation, but can also occur spontaneously due to straining.
Internal – 

inside your rectum that you can't usually see or feel them. They don't generally hurt because you have few pain-sensing nerves there. Symptoms of

 internal hemorrhoids include: Blood on your poop, on toilet paper after you wipe, or in the toilet bowl.
Interno-external – Internal piles grow and extend externally.
First degree : Nothing protrudes out from the anus(Only bleeding)
Second degree : When the growth protrudes out from the anus but returns spontaneously after passing stool.
Third degree : The growth protrudes out from the anus but some force (with finger) require to push back
Fourth degree : The growth remains protruded out of anus permanent
Frequently Asked Questions
* When surgery is require ?
* Does the pain & bleeding always indicate piles?
* Can piles be cut in OPD without having stitches?
* Are hemorrhoids curable by medicines?
* Can cancer in anal part is curable by medicines?
* Is there any injection treatment?
Best Piles Treatment in Pune
This condition can be managed as per the stage and symptoms of the disease. Here are 3 ways to manage the condition –
1 ) Correction of digestive system
2 ) Preventive Home remedies
3 ) Ayurvedic Treatment
Correction of digestive system
If there are any complaint like loss of appetite, acidity, constipation, etc due to any other disease or medication, it should be treated by correcting the routine and medicines.
Constipation can be corrected by adopting a high fiber diet. Also eat as per your appetite. Avoid fast food. Drink sip by sip water during eating. Do exercise regularly.
The best way to reduce pain is a sitz bath in simple warm water or warm medicated water (Proctobath).
Avoid straining during defecation.The best way to reduce pain is a sitz bath in simple warm water or warm medicated water (Proctobath).
Preventive Home remedies...
1) Eat high fiber food
2) Drink adequate of liquids
3) Exercise daily
4) Don't strain during defecation (Passing stool)
5) Do not sit or stand at same place for more time
6) Don't lift heavy weights continuously
7) Keep anal part clean
Ayurvedic Piles treatment
In our clinic, we use combination of Ayurveda & homeopathic medicines to manage piles symptoms. 1st degree piles can be cured. In others stages of piles symptoms can be reduced by medicines.
1 ) Pancha Karma ( Basti ) :
Enema of medicated Ayurvedic oil & ghee (basti) helps to reduce pain , spasm, swelling of piles & anal ring. It also reduces dryness of internal skin which helps to reduce constipation.
2 ) Kshar Karma :
It is non surgical procedure. A medicine derived from various herbs ( called 'KSHAR' ) is applied on pile mass. Kshar reduceses & shrinks piles. It is a type of chemical cauterization.
Kshar sutra Treatment For Piles
In our clinic we have 21 years of research. We have modified above mentioned kshar application herbal process in Ayurveda, to kshar sutra ligation process. This modification help to cut off blood supply of pile mass, plus chemical cauterization simultaneously. After 8 to 10 days pile mass shrinks, dries & get separated from body automatically. There is no cut or stitches in this treatment. No major blood loss in whole treatment. It is useful in 2nd, 3rd & 4th degree hemorrhoids.
This is non surgical procedure & can be done under local anesthesia. So this process do not require hospitalization. Patient need to take rest at home for 7 to 10 days & avoid travelling. Patient need not require bed rest or daily dressing. Also there is not risk of blood loss & other postoperative complications as blood vein is not cut or stitched. Some patients may require support of antibiotics.
We have cured patients from...
India, USA, England, Canada, Australia, Germany,

Sweden, Netherlands, Ireland, South Africa, Singapore,

Saudi Arabia, UAE, Israel, Kuwait, Spain, Bahrain,

Malaysia, Sri Lanka, Afghanistan, Maldives,

Brazil, Nepal, Philippines, Indonesia, Sudan
Maharashtra, West Bengal, Delhi, Gujarat,

Karnataka, Uttar Pradesh, Haryana, Punjab,

Madhya Pradesh, Andhra Pradesh, Telangana,

Goa, Tamil Nadu, Jharkhand, Rajasthan
Many patients wander here and there in search of a doctor or medicines to cure Fistula and often waste their time, money and energy by getting trapped in the misleading advertisements, quacks etc. Fistula-in-ano is curable by kshar sutra treatment. Most of the patients ignore this disease till they feel large abscess & severe pain. Advance medical surgeries & antibiotics don't assure 100% cure at first surgery. Sometimes, if fistula is due to tuberculosis then Antitubercular therapy can work to heal it.Beware of quacks and false claims, advertisements like those of injection treatment, herbal treatment etc. seen commonly in media. They can harm your health and can lead to complications like anal incontinence. Don't try home remedies.