Every patient should know and accept the fact that pain, burning, bleeding, constipation are only symptoms. We can see these symptoms in multiple ano rectal diseases. But this should not be misunderstood that all symptoms are of piles (hemorrhoids). 
Controlling symptoms in 3 days is possible with our combination of Ayurvedic and Homeopathic medicines.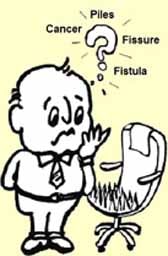 Many studies conducted to analyse percentage and spread of Piles (Hemorrhoids). The summery is as follows – approximately 50% to 66% of people have problems with hemorrhoids at some point in their lives. Males and females are both affected with about equal frequency. Hemorrhoids affect people most often between 45 and 65 years of age, and they are more common among the wealthy.
Piles treatment in 3 days by Ayurvedic and Homeopathy is available in Om Ayurvedic Clinic in Pune. Piles are also known as "Hemorrhoids " in English, "Mulvyadh" in Marathi, "Bavasir" in Hindi language. The Sushrut Samhita has explained the Hemorrhoids as Arsha more than 4000 years ago. Sushrut Maharshi explained types, causes & treatment in detail. In his book, Sushrut Sanhita, he described conservative treatment & kshar karma treatment . 
 Dr. Prasad Bapat is one of the best specialist doctor in Pune (India) for Piles (Hemorrhoids). He has simplified the  complex surgical method to "a few minutes procedure'. Piles (Mulvyadha) treatment is available in Om Ayurvedic Clinic, Pune . This is one of the best clinics in India who provides a herbal solutions known as Kshar sutra treatment. Our 21 years Kshar sutra research is a revolution in this field. We found that the combination of Ayurvedic and Homeopathic medicines have best results. Also, Kshar sutra can be a better option than surgery for piles.
We have two branches in Pune (India). Patient can visit clinic by appointment for consultation. We also have paid online consultation facility.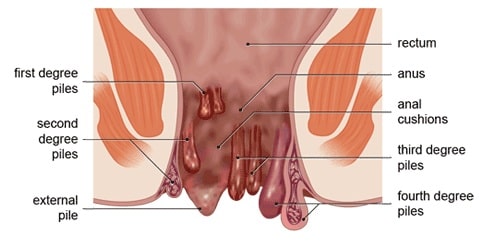 Hemorrhoids also called piles, are swollen and inflamed veins in your anus and lower rectum. Hemorrhoids may result from straining during bowel movements or from the increased pressure on these veins during pregnancy. Hemorrhoids may be located inside the anus (internal Hemorrhoids), or may develop under the skin around the anus (external hemorrhoids).
The combination and duration of treatment may change as per the type and patient's condition. So it's always recommended to order medicines after consulting doctor.
How To Buy Piles Medicines
Please read all instructions carefully before you fill up the medicine demand form. If you have any doubts / confusion, you can contact clinic helpline phone numbers. 9822772882, 7058850478
1) How to book appointment – Please mention expected time and date of appointment. You will be informed as per availability. If there is any change in appointment due to unexpected condition, we will contact you.
2) Consultation charges at clinic – First consultation fees is RS. 650 (for Indian citizens only). Medicines and courier charges will be extra.
3) UPI Payment – Virtual address for UPI payment is [email protected]. Click to see => QR code
4) Online Consultation – Once you send detail information through the form, we will contact you about the details. It's always recommended to write maximum information in the form. Also you can send detail email with reports and picture of infected area. It will save the time during consultation. You need to pay in advance for the consultation. The charges are as per duration of meeting.
5) Buy Medicine – You need to pay in advance the cost of medicines including courier charges. Also mention your clear address, pincode and phone number. You can confirm all details through WhatsApp or email or phone call. Pay RS. 3000 for medicines and courier charges. Click to see UPI => QR code